As most of you know, I will be away from blogland a bit while I'm on maternity leave.

Lucky for me - AND you!- I've partnered with some lovely bloggers to consistently bring you great content.
I am in denial (and very sad) that I return to work from maternity leave in just a couple of weeks. However, it is happening so I want to be prepared for the transition from predominantly nursing to predominantly pumping. T
hat is why this week I am especially happy to share an informational post by breastfeeding advocate Marilys Candelario about the transition to pumping at work
.
Enjoy!
Transition to Pumping at Work
by Marilys Candelario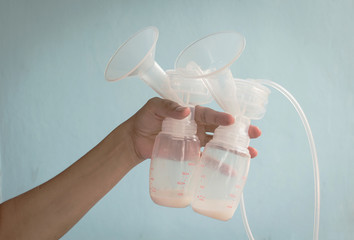 Hey World! I am Marilys, networking queen, breastfeeding advocate, and working mami. I've watched so many friends struggle with breastfeeding and never thought I could have a successful long nursing relationship with my daughter, Azaris. I was fortunate to find some good resources and support groups and somehow managed to nurse Azaris for 16 months. While spending countless of hours pumping at work I developed
#PumpLifeChronicles
to entertain myself and showcase all the cool tips and accessories I was using to make pumping seamless. I am a total amateur, bad at editing and cursed a lot so I had to remove most of the videos since you can't be too careful with what you post on the internet these days. I hope this post helps you prepare for a seamless transition into #BreastfeedingWorkingMom life.
>>Preparing to return to work
The U.S. has a far ways to go when it comes to supporting working moms, especially breastfeeding mothers. I work in corporate america and even as a human resources professional I found it difficult to find the proper literature to support me in my transition back to work. For some women, the thought of returning to work can build a lot of anxiety and fear. Breastfeeding mom or not - it can be terrifying to leave your baby! I cried every single day the week leading up to my first day back at work. To those mothers, I assure you it gets better, especially after you spend your first few days back with uninterrupted eating while on coffee or lunch breaks! To the mothers who can't wait to get back, shout out to you! There shouldn't be shame in knowing you weren't cut out to be a stay at home mom. It can be difficult to actually say out loud that you enjoy being baby free while at work and feeling like more than a human cow to your child. I am especially reminded of this every time I go to the nail salon and they ask where my baby is since I have the day off work. I say, ummmm she is at daycare because momma needs alone time- yea I said it, and I don't feel bad!
Back to preparing to return to work...
After trying on work clothes to see what fits your post baby body, and figuring out your childcare routine, you may be full of questions like:
How do I get my baby to take a bottle?
Will I be able to pump enough milk?
How much milk does my baby need while I am at work?
Will I have time to pump at work?
How do I store breastmilk at work and during my commute?
How often do you nurse when you get back from work?
Check out my suggestions below. I hope this helps you feel better prepared. You'll notice I provided a lot of links to posts on KellyMom.com. This site was
developed to provide
evidence-based information
on breastfeeding. It is crucial that you follow evidence based information rather than suggestions of loved ones to avoid incorrect, potentially harmful, advice.
>> Introducing a bottle
If your baby has been exclusively nursing it is important to begin to introduce a bottle so they baby can learn to transition from breast to bottle easily. Did you know there are
bottle feeding techniques
to protect the nursing relationship? If the bottle makes it too easy to drink the milk than baby can get a bit lazy and not want to latch or suckle at the breast which can lead to exclusively pumping if your baby ultimately refuses to latch.
>> Building up a supply
If you are exclusively nursing or intermittently pumping it may be difficult to understand how much milk baby needs while you are away at work. A good estimate to use is the following,
if baby usually nurses around 8-10 times per day, you can guess that baby might need around 3-4 ounces per feeding when you are away. You can read more about the calculation
here
. So in order to have the amount of milk necessary for baby on your first day back to work you may need to begin adding a daily pump session, at least a week before returning to work, and begin storing that milk. I suggest having at least five 3 to 4 ounce bottles for your first day away. I calculated that by assuming one 3 to 4 ounce bottle every 3 hours that you are away, including your commute time. If you find it difficult to have this ready in time for work you can always supplement with formula. Don't give yourself more stress as that can impact your supply.
>> Maintain a balanced
nutrition
so that your supply is protected.
>> Proper accessories
You'll need the basics to properly pump, for examples: a pump, tubing, breastshields/flanges, connectors, valves, membranes and collection bottles or bags. There are some accessories that will make your life much easier! I suggest checking out the following cool breastfeeding accessories:
* If you are a driving breastfeeding mom I strongly suggest considering a travel power adapter or car adapter for your pump. With the Freemie Cups pumping while driving is super easy!
>> Practice day
I suggest practicing your first day away from baby, prior to your first day at work, to help prepare you for the emotions you may feel on the real day. One way to do this can be by setting up the caregiver to start a day before you return to work. On that practice day you should ensure to pump at least 3 times every 3 hours. Example routine can be:
You can setup your sample routine based on your working hours and your commute. The milk you pump that day will be used for the following day. When you don't work the following day you can store the milk in the fridge and use for up to 3-8 days, although ideally you want to stay within the 3-5 day range. If you won't be needing the milk within that time frame you can freeze it. Note that everyone's milk is different, please follow the guidelines for storage as described
here
.
When setting up your pump sessions, in order to activate let down it is important to focus on thinking about your baby. Look at a picture of your baby (nursing, if possible). Try listening to a video recording of your baby fussing before nursing and/or feeding sounds. These acts, along with massaging your breasts, will help stimulate your body to release the milk.
>> Pumping at work
Depending on your industry, your employer may accommodate you in slightly different ways. You should know you have
legal rights
that protect you pumping at work and this link may help you understand how your industry can support you
pumping at work
. Overall
WomensHealth.gov
is a wonderful resources and has a wonderful guide on how to speak to your supervisor about your needs so you can have a stress free pumping experience. It's important to, at a minimum, discuss your anticipated pumping routine and how to manage the breaks with competing priorities, such as meetings that run over the scheduled time. There is nothing worse than having breasts full of milk and feeling engorged while a colleague continues to speak for ten minutes past the anticipated end of the meeting!
>> Storing breastmilk at work and during commute
There are many breast milk coolers that allow you to place bottles or bags with frozen ice packs inside for easy commuting. If you aren't sure where to start here are my favorites:
Medela Bottle Cooler
and
Kiinde Bag Cooler
. Since your milk can be safely stored in a cooler for up to 24 hours one cooler bag and ice pack should be sufficient enough for your working day and commute.
>> Nursing when you reunite with Baby
It is helpful to nurse your baby once you get home as it is easily accessible organic fast food! All jokes aside, it alleviates having to wash more pump parts and bottles but also is crucial for your baby's bond with you. Additionally, your mammary gland receptors (located in your breasts!) interprets the baby's saliva for bacteria and viruses and, if they detect something i.e., the baby is sick or fighting off an infection, your body will actually change the milk's composition, tailoring it to the baby's needs and building antibodies. Hence the saying, "I make milk, what's your superhero power?"
Thank you for reading my post, I hope these tips were helpful! If you are interested in supporting organizations that educate mothers for evidence based mother to mother support I urge you to consider making a donation to
Breastfeeding USA
. I am currently in the application process to become a Breastfeeding Counselor and look forward to continuing my education with them so I can offer the best mother to mother support possible. Feel free to reach out to me with any questions:
Mcolon5@gmail.com
718-308-7619 IG: @mari_vega
Thanks Jackie for letting me support you in your transition to #PumpLife