Happy Friday! I've successfully completed 4 days of paleo so far, which means today is day 5!
It hasn't been easy, especially with all of the chocolate and pizza in the house but I've been strong. I'm always up for a challenge. Plus, it's much easier doing it with someone else because it kinda keeps me accountable. Beginning today, I'm also getting my workout routine going again!
Have a great weekend --- but before you go:
link up below!

P.S. If you haven't already noticed, check out my new button!
________________________________________________________________________________
Thanks for joining us! So let's get to it:
1. Follow your hosts.
They will be numbers 1 - 4 on the list.
**I try to always follow back, so
PLEASE leave a comment letting me know you're new here so I don't miss you! **
Sometimes it takes a little while, but I always get through every comment and follow back. :) My co-hosts this week are:
Lisa
over at
One Red Shoe
Jackie
over at
City Girl Finding Her Place in the World
+
Whitney
over at
Miss Mama Me
!
2. Link up your blog's main page.
**No blog hops, please.**
3. Try to stop by at least 3 blogs and follow ones you love.
I'm sure they'd love it if you left a comment, as well :)
4. Take a button!
Sharing is caring :) The more awesome blogs = the more awesome bloggy friends you make.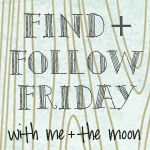 5. Tweet this hop!
Spread the hop love.
I've decided to make this hop
every other Friday
for the time being-- e-mail nmariephoto@gmail.com if you'd like to co-host!